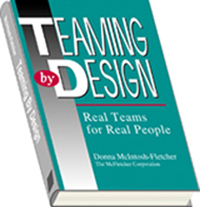 "This book cuts through the fog of teams hyperbole and lays out the real-world facts in a very accessible style. Based on the author's years of sound research and practical experience, this is a valuable guide for anyone thinking about or struggling with the implementation of teams. A clear and straightforward read."
— Tom Lantzsch
Director of Strategic Marketing
European Semiconductor Group
Motorola Inc.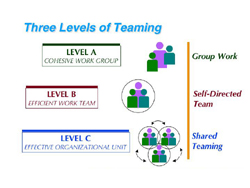 Teaming by Design:

Real Teams for Real People
Teaming by Design, written by Donna McIntosh-Fletcher of The McFletcher Corporation, is more than a book about how teams can best work. It's a guide with a process flow for teamwork. It will challenge readers to question when and when not to use teams to accomplish work and will show them when they may need to consider an even broader approach to teaming through collaborative sharing across the organization.
Its easy-to-read style includes real team examples and will help readers determine:
If organizations need to have teams in their work environment –

Questions for assessing when a team approach is required and what level of teaming is necessary

How to establish teams – Guidelines on how to develop and
organize teams
Ways for existing teams to have a greater impact –


"Teams in Action" examples, process steps and exercises for moving beyond basic work to a higher level of team accountability

Whether teams need to continue into the next decade –

WorkStyle Patterns® research about the direction of teamwork in both technical and service settings

.
Teaming by Design includes the factors needed to make real teams for real people work in an organization. It covers areas of teaming that many organizations fail to consider, such as how to:
Balance cultural strengths
Assess the degree of teaming required
Conduct team interviews for hiring and selection
Determine team productivity
Align team member preferences with team assignment requirements
Draw upon team conflict as a rallying point for growth
Identify the team's mission and role in support of the organization's vision
Chapter Titles
Introducing Teams
Developing Teamwork
Organizing the Team
Assessing Team Requirements
Understanding Team Support Roles
Working Together
Balancing Diversity
Running Team Meetings
You may purchase the book through Amazon.com or through mcfletcher@mcfletcher.com.
More information on teaming is included on this website in the WSP™ Team Role Assessment, WSP™ Team Member Assessment, in WorkStyle Team Alignment Packet # 6, and in Teaming By Design Learning Transfer sections.
---
Contact us with your needs or questions:
mcfletcher@mcfletcher.com
(480) 991-9497 (US phone number)