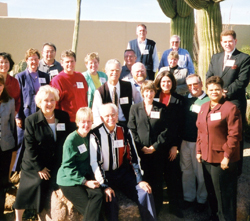 "Given the global realities organizations
face today – including interdependence, complexity and competition – managers
must get several things right. Two of them
are Purpose and Placement. A purpose compelling for all their people. And a place,
a position, exactly aligned with their
people's preferences and potential.
McFletcher has perfected precise methods
to establish purpose and align potential."
— George Renwick, President,
Renwick Associates,
Consultant for Multinational Executives
Join the
Work Alignment Dialog ...
On-site Company Seminars
Webinars
Virtual On-Line Discussions
Create Synergy between Stakeholders...
Leadership Dialog — Work Alignment
Creating Work Environments of Lasting Value
In the past, traditional organizational hierarchies provided clarity through defined structures and designated functional roles. In today's organization, information technology has impacted how we work and gain information.
Several factors impact how work is changing and the alignment or misalignment of work as we transition with the Information/Technology Society. This transition forces us to leave the known, tangible and reliable ways of working to chart the unknown, unseen technologies and work processes of the future.
IF you believe organizational success means more than meeting quarterly numbers ...

IF your workforce lacks a basic understanding of work or if it is unclear whether your organization will be viable and vital beyond the next two years ...

IF creating organizations of lasting value rings true for you ...

THEN as an organizational risk taker, breakthrough thinker or market maker, you can't afford to miss dialoging.
Join the Dialog
Twenty-six of McFletcher's clients and colleagues gathered to dialog and offer their workplace successes and challenges. Their insightful real-life experiences are featured throughout the Work Alignment book. Visit and interact with their dialogs and Workplace of Action stories to gain encouragement for how you can, through Work Alignment, realize the promise of work for lasting value.
Clarify the critical issue of preparing your workforce to internalize shared work principles and accountabilities that also orient individual work contributions.
Experience energizing discussions that reveal the secrets of Work Alignment.
Explore how other organizations apply Work Alignment strategies to achieve long-term success.
Learn how interactive processes for shared accountabilities equip organizations to combat short-term thinking.
Contact us for more information about the Work Alignment book and join us in the dialog about such issues as:
Workplace movement realities from 'Me'-based economic focus to 'We'-based value
Principles of work that make work purposeful, promising and
profitable
The dichotomies of change versus stability for productivity and
growth
WorkStyle research regarding the alignment and misalignment
between workforce preferences and workplace requirements
The shifts in positions and professional roles, as a result of the Tipped Hierarchy, from Established to Interactive workplace enviroments
Compare the shifts that have taken place since McFletcher's clients have been dialoging.
Communicate your own insights and share your experiences.
You Hold the Key
Call us for how you can join the Dialog:
(480) 991-9497 (US phone number)
As an influential member of our workforce, you hold the key to the long-term success of your work environment and its place in society. Invest in yourself by participating and your place of work will prosper! Return to your work enriched, inspired and able to begin creating an organization of lasting value through Work Alignment.
---
Contact us with your needs or questions:
mcfletcher@mcfletcher.com
(480) 991-9497 (US phone number)